Springfontein's fine dining restaurant "Wortelgat" has just opened again, after a 6-month break from the culinary pop-up held beginning of this year. The double Michelin-starred father and son team, Edwin and Tom Vinke, from Western Scheldt located "De Kromme Watergang" are back on the estate for another term till end of March 2023 to establish the ultimate fine dining experience which shall now be a fixed and integral part of Springfontein's philosophy.
The culinary gem explores the ways in which terroir-driven wines and food transcend cultures to pair and reveal what mother nature gives. The menu showcases the Vinkes' unique style focusing on tidal flavors of local fish, fruit de mer and root vegetables, incorporating them in dishes that perfectly follow the culinary guardrail as set by the wines grown on Springfontein's unique monopole limestone parcel in the cool shade between Walker Bay's Ocean and the Kleinriver mountains.
"The impact of our guests' feedback so far has been enormous! We feel that now is exactly the right time to not only continue the adventure, but to develop it into a sustainable institution, adding interesting twists such as our shared love for Rock music, as well as a combination of various styles from South Africa to the Netherlands and beyond, but staying true to what the Overberg's marshlands have to offer",
Edwin enthusiastically postulates. And as Springfontein founder and CEO Dr Johst Weber adds:
"We are extremely delighted to manifest this cooperation, based first and foremost on a long-term friendship. Last but not least, we are united by humbleness on the one hand, but also by the desire to go more than just the extra mile, to break new ground in sometimes quite daring ways. And after all, good wine and food is a most hospitable way of connecting with like-minded people."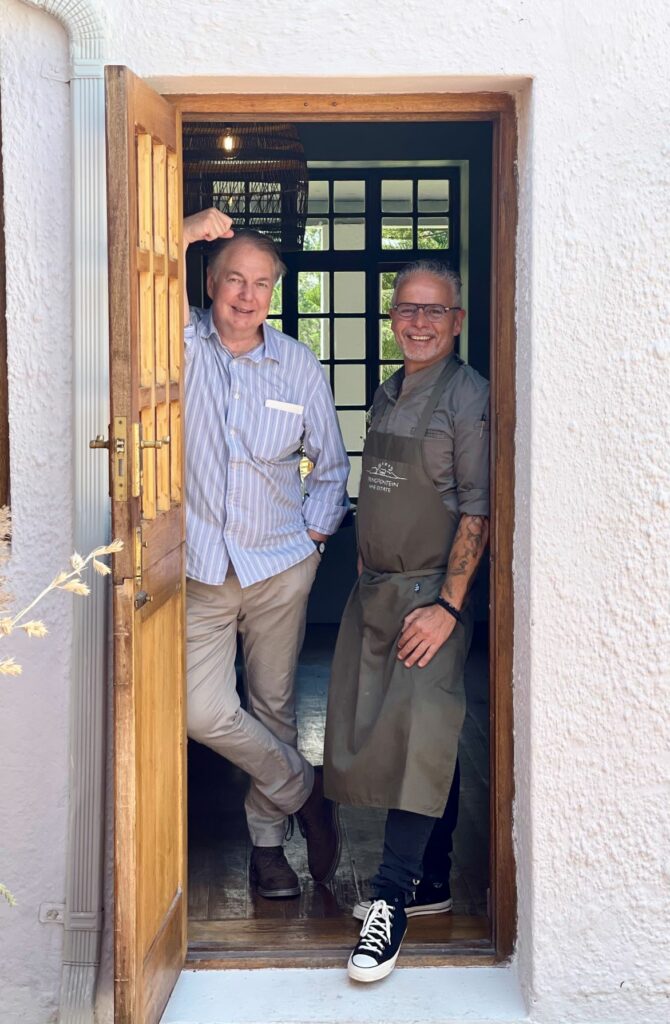 Weber cultivated the estate from scratch in 1994, when people told him its grounds would only be suitable for making vinegar, with the deep wish to create a place where family, friends and other kindred spirits can meet around wine as a unifying product, because wine, in his words, is "a great combination of nature and human craftsmanship". In complement, with their "Wortelgat", he and the Vinkes now also want to live up to this claim on the food side of life.
For reservations and more information:
+27 (0) 28 341 04 44 – reservations@springfontein.co.za
https://www.springfontein.co.za/fine-dining/

About De Kromme Watergang: https://krommewatergang.nl